1 | 2 | 3 | 4 | 5 | 6 | 7 | 8 | 9 | 10
Renee is wearing a full hair bang that has a fringe look to it. It is fairly thin and spread sparingly across the forehead.
Renee looked great at the New York Premiere of "Bee Movie" with her short 'do. Her back section was cut short and close to her neck to allow all the attention to focus on her front section, which was left longer and sliced to add a wispy effect around her slender oval face. This style will work best on medium to fine hair types and naturally straight hair. Keeping this style maintained will be relatively easy to achieve.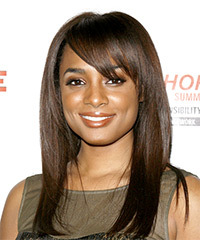 Smooth and sexy were the aims of Alicia Renee's style for Source Magazine and The Hip-Hop Summit Action Network's voting party. Her luscious length flowed over her shoulders, showing off jagged-cut layers starting from below her jaw-line. Long side-swept bangs complemented her face shape and completed her look beautifully.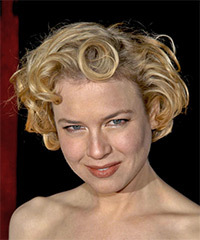 Renee has chosen a gorgeous full curl which is great for a night out or a casual night in. The hair has been kept at chin length and layers have been cut into a short crop to create more volume and to enhance the curl. Side swept bangs have been added to beautifully frame the face.