1 | 2 | 3 | 4 | 5 | 6 | 7 | 8 | 9 | 10
Nicole Richie had one of the most popular types of hair bangs- called sideswept bangs, with her medium length bob hairstyle.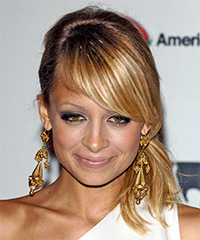 Nicole offered a sassy look at the Africa Outreach Program Benefit with this simple upstyle. Nicole's longer lengths were pulled back to form a neat and sophisticated side-style and her bangs were cut on an angle to create an effective and modern finish to this 'do.
The bangs help to soften up this hairstyle. They are styled straight and smooth, gently swept off ot the side. The bangs cover a small portion of the left eye for a sultry look.
Beautiful blonde highlights make this style pop with brightness, especially around the face area.
Nicole is wearing her medium bob hairstyle all over curly. The hair bangs have a bit wave to it and are swept gently off the forehead.
The style, as you can see, has quite a bit of versatility- allowing for an all over curly look or all over straight look.
The sideswept bang also works well with any updo, see photo right. Nicole has twisted her hair back into a chignon updo and left out her hair bangs to gently sweep across the forehead for a very flattering soft look.
The bangs are cut with graduated layers starting at just below eye level and going all the way down to past the ears. The ends are blended in with the rest of the hair style.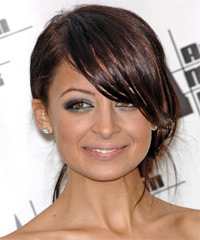 Nicole made a good impression at the 2006 American Music Awards with this sexy and sleek 'do. Her long length hair was pulled up onto a sexy upstyle which was positioned at the side of her head, and her thick bangs were styled to the side to blend in with her swept design. This is a great hairstyle for any occasion and is a good option for square face shapes.
Sideswept Bangs
This funky design looks great on Nicole. Her hair has been cut into a bob style on the length and soft face framing layers have been added around her front for shape and definition. Long side swept bangs have also been cut to blend in with this cool look.
This has a more framed bob shape than other styles on this page.