1 | 2 | 3 | 4 | 5 | 6 | 7 | 8 | 9 | 10
Haircut Styles Bangs
NEXT Haircut Styles Bang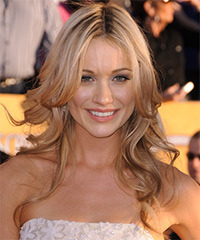 These gorgeous locks have a combination of medium to long layers sliced all through the sides and back encouraging the movement of the stunning waves added for shape. This look is great for any occasion and can be easily re-created with the right tools and products.
Some hair stylist offer free hair bang trims and usually you don't even need an appointment.
This dainty 'do has fancy layers cut through the edges to allow for movement which gives this look a fancy finish. The bangs have been swept across the face to complete the style with flair.
The sideswept bangs create a gentle sweep that helps to soften any hairstyle. Plus if you don't like the look, the layers are already so long, they can be styled in with the rest of your hair and grown out very quickly. Shorter or full hair bangs don't have this advantage. Growing out a full hair bang can take up to a year since the hair grows only about 1/2 inch per month.
The short hair bang, see photo left, is a very edgy look, but will require frequent trims and can take a long time to grow out. A great way to see if this type of short hair bang is for you is to try it on. Check out our hair styles demos for a demonstration of how to try on a hair style on a photo of yourself.
The full hair bang can be a very flattering addition to any long hairstyle, see photo above. The bangs help to balance out the face shape and draw attention to the eye area. The secret to making this style even more amazing is to wear eye makeup and liner that helps draw out the eyes. This is a special skill that makeup artists are great at. Ask at your hair salon if they have any makeup artists that give lessons on applying makeup.
The full bang must be styled using a large paddle brush to direct the hair down and under. If your hair tends to frizz up, it is not a good idea to skip blow drying the bangs and using a flat iron to smooth out the bangs. Since the bangs are right in front, they are visible and can really turn your look into a messy one if not properly styled.