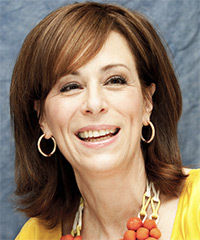 Side Swept bangs can be worn with any type of hair style. Add depth to a long hair style by adding long side swept bangs from a deep side part. The short hair style gathers sexy, sultry appeal with side bangs. The beautiful thing about the side swept bang is if you really don't like the look, you can style the longer pieces in with your other hair. And if you like the look, you can wear them side swept and keep them trimmed to the exact length that you like.
Turn your short hair style or long hair style into a sexy hair style by adding long side swept bangs. If you aren't quite sure about cutting bangs, maybe you could try clip-in hair extensions that look like bangs. Or better, yet, upload your photo into some of the popular hair style imaging software available online today and see exactly how the bangs will look before you even go near a pair of scissors.

Jessica Alba has classic side swept bangs that flow softly from a deep side part across her forehead Add all over waves to create this extra smooth and sleek hair style.
To style the bangs, use a large round brush and direct the hair from one side of the face to the other while blasting the hair with the blow dryer. Seal in the shine and smoothness with a hair product that contains silicone.
Silicone helps to seal the cuticle and add shine while eliminating any frizz at the same time. It's a wonder product! Add some highlights around the face and in the bangs for a multi-dimensional look that makes your eyes pop.

Check some of Jessica's other hair styles at the celebrity hair styles site,
www.HRHairstyles.com
She has been seen with a full bang, wispy bangs and layered bangs.
The side swept bang creates a very sexy look with long silky hair.
The side swept bang is one of the more popular types of bangs because it is so easily styled with the rest of the hair when the look is no longer desired.
And the fact that the hair is longer and is a great addition to liven up any hairstyle. To get these types of hair bangs, ask for long side swept hair bangs. The length of the hair will be cut at nose level or down and styled off to one side or another.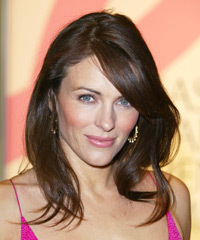 This siren of the screen carries off this classy look to perfection. Liz's hair has been layered to create a soft and full style which boasts body and bounce. The soft bangs have been parted on the side to create a softer look for the face, and is a flattering option for longer face shapes and high foreheads.