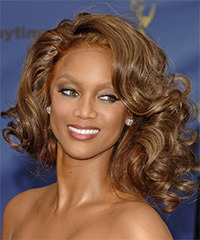 Regular bangs can be slightly notched on the ends to add a textured look to the bangs. Do you know the fastest way to get a brand new hair style? You guessed it----Add regular BANGS! You can add bangs to a short hair style, medium or long hair style. Discuss with your stylist the best type of bang for your style.
Another great look for regular bangs to is to add just a few highlights or lowlights. The rest of the hair can be left long and straight or long with lots of layering. One way to check out a new hair style with color changes or bang changes is to use online hair style imaging software.
Most programs allow you to upload a photo of yourself and try on various styles to see exactly what you would look like. No longer do you have to guess how a certain style will look. And when you are done trying on hair styles, you can actually print a copy of the photo that you like and bring it with you to your hair stylist.
Each style includes styling information as well as what face shape and hair types are suitable for each hair style. Just think, no more bad hair cuts.
It's just a click away. View your photo or a model with thousands of hairstyles and color combinations that suit your face, including short, bridal, men's, celebrity and everyday hairstyles.
Tyra Banks Hair Style with Bangs
Banks has regular bangs combined with long layered hair to make a great everyday hair style.

Regular bangs can be slightly side-swept for a different look, or just kept down directly in your forehead.

Hair is combed forward before the bangs are cut. With the bangs just skimming the eyebrows, the highlights and lowlights in the bang area light up the face.

Pump up the shine with a blast of shine serum. Keep the bangs and layers in their place and look great all day long.
See more regular hair bangs