Jennifer Garner Long Hair Style with Regular Bangs
The regular bang features bangs that are full and fall just around the eyebrows. A hairstyle with regular bangs is great for complementing face shapes that have a high forehead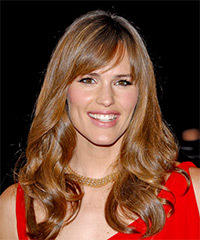 Jennifer Garner, see photo left, is wearing a regular bang.
The hair is not too long, not too short and doesn't have any fancy layering or cut.

This type of bangs works well with a face shape, such as the heart shape, that features a high forehead.

See more examples of regular bangs below.
Jennifer let her hair loose at the "The Kingdom"

Los Angeles premiere and looked great! Her long length was

left to sit over her shoulders and soft layers were added to

her hair for shape and body. To finish, her bangs were slice

cut to sit on her forehead to emphasize her beautiful

eyes.

Christy Carlson Romano Hair Styles with Bangs Christy Carlson Romano is wearing a regular bang. Her bangs are just slightly longer than what you would see in a regular bang.
Create this style on your own by first gently back combing small sections of hair in the crown area. Smooth over the hair with your fingers and pull all hair back into a high ponytail.
Secure the ponytail with a decorative ponytail holder or clip.
Run a flat iron over bangs to create the extra smooth finish and finish up with a blast of shine serum all over