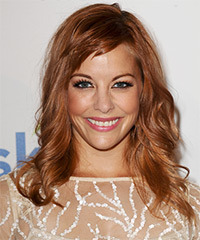 There are so many different types of bangs that you could literally create 10 different looks just by adding a different type of bang. There are choppy bangs, short bangs, long bangs, regular or basic bangs, side swept bangs
Do you know the fastest way to get a brand new hair style? You guessed it----Add BANGS! Short hair, long hair, medium length hair---any length will look great with bangs. Basically, any type of bang is in style this year. Everyone is venturing out to add some sort of bangs to her hair style.

The short bang will work for angular face shapes. The choppy, uneven bang creates a very artsy type of look. Combine this short, choppy hair style with the latest fashion and you will be quite modern.
Natalie Portman Short Bangs
Natalie Portman is wearing very short bangs with her unique updo. The bangs are swept to the side from a deep side part.

Add shine and smoothness to your bangs by running a flat iron over the hair. Be sure to be careful with the flat iron when curling very short bangs. Flat irons can get very hot and when straightening the hair right next to your face, the heat can burn your skin.

Apply a small amount of pomade or hair spray to keep the short bangs right in place.
Wear your hair in an updo, just like Natalie, or wear it down straight. Either way, the short bangs are a great addition to any hair style.
But before you go and cut short bangs, you should ask your hair stylist for advice on adding a short bang. Since you will be cutting the hair fairly short, it is a good idea to prepared for how it will look.
Remember---hair only grows 1/2 inch per month. So, if you absolutely hate the short bangs, you may have to wait a few months for them to grow out.